Do you need a healthy* snack for your next workshop, classroom, event, or after school program? Apply to Trumbull Neighborhood Partnership and we may provide a healthy snack for your event catered from one of our many local businesses. Nonprofit and educational events only, please. Events should be geared towards children and youth ages 5-21. Requests must be placed at least 7 business days in advance to ensure product availability from local vendors. Participating organizations must be willing to complete a survey about their experiences as well as some photos to be eligible. First come, first served. Funds are limited.
Check Out Our New
GROW Technical Support Resource Portal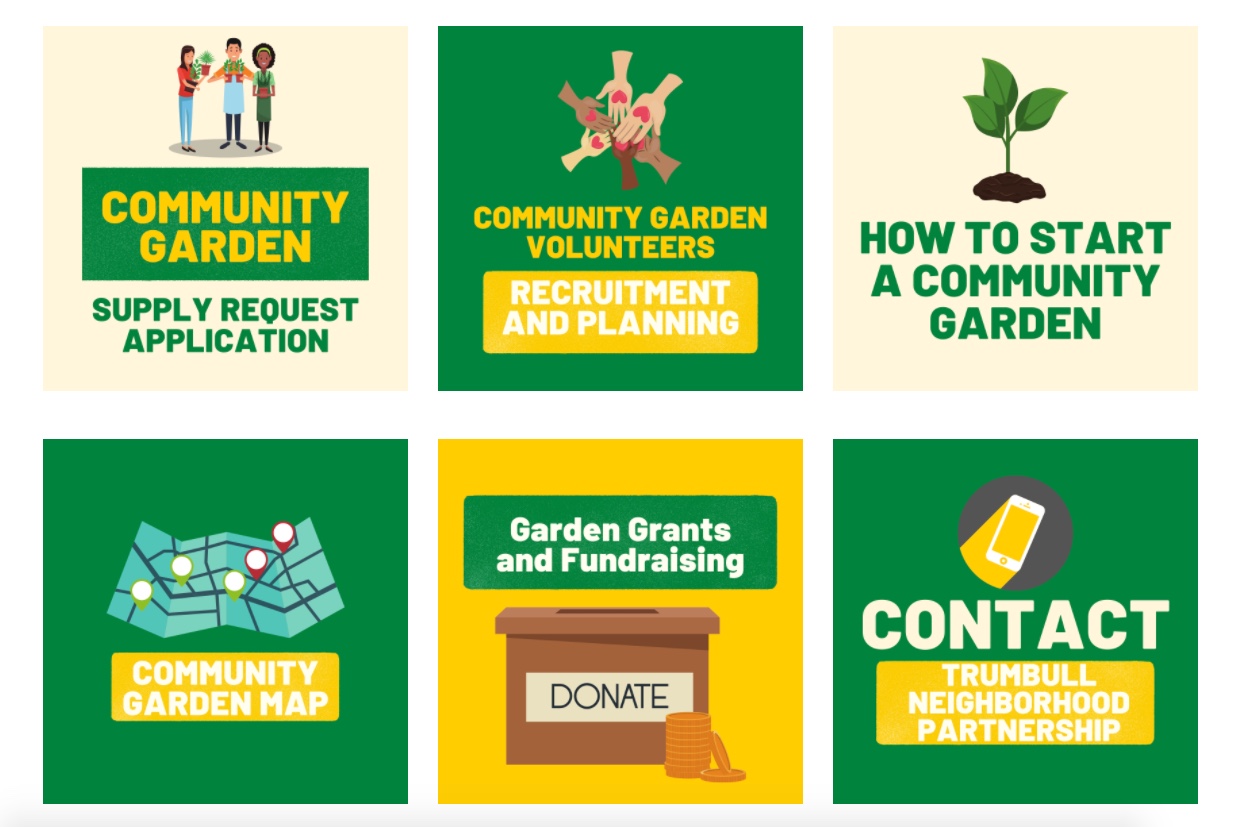 Download our Community Garden Application, get helpful tips and videos, recruit volunteers, and gain access to grants and fundraising opportunities.
Garden Resources of Warren
TNP's Garden Resources of Warren (GROW) Program is an urban agriculture program that works to address the identified food desert areas of Warren by providing technical support, leadership development, and educational programming for Warren's community gardens and manages the Warren Farmer's Market. GROW partners with many organizations and community members to increase access to healthy, affordable locally grown foods. GROW is committed to developing a local and regional food system that reduces food insecurity and creates economic development opportunities. GROW participates in local and regional food policy and networking coalitions, such as the Trumbull County Health Department Creating Healthy Communities Coalition, Mahoning Valley Food Coalition, and the Northeast Ohio Regional Food Collaboration.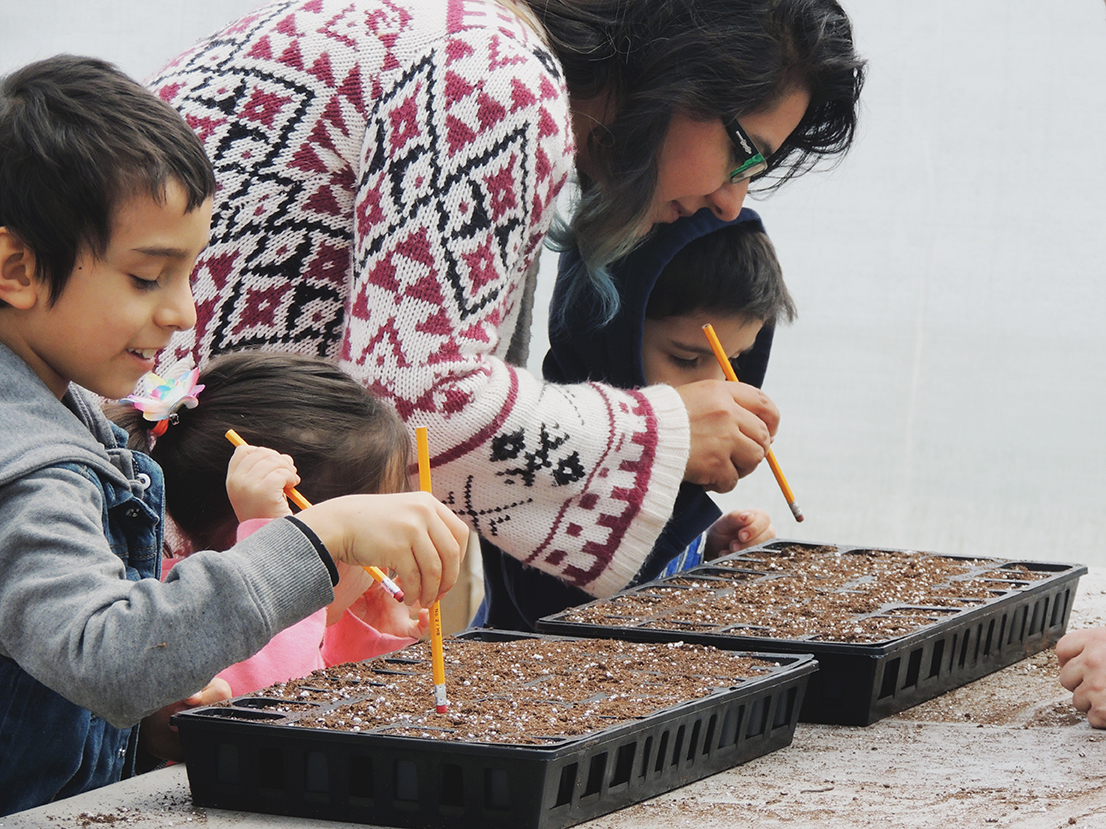 Community Gardens and Technical Support
GROW provided technical support to 17 garden projects in the city of Warren and surrounding communities. Technical support includes soil testing, supplies, general advice, project planning, starter plants, fundraising assistance, or other needs as identified by the community garden leader.
 
GROWing Garden Leadership
In 2018, the GROWing Garden Leadership Conference was spread out over 3 sessions so that current and future community gardens could attend the sessions that were most important to their work.  Session included Community Garden Record Keeping and Fundraising, Recruiting Community Garden Volunteers, and Community Garden Communication, Story-Telling, and Events. There was a total of 12 participants for various parts of the conference and each participant was given an easy to use guide with all the of the information presented at the classes.
Seeds to Soil
The Seeds to Soil Project had another successful year in 2018 and gave away over 2,100 starter plants to community gardens in the city of Warren.  It was a unforgiving year, temperatures made the team nervous as we anxiously waited for all of the plants started by 10 volunteers but the Roosevelt High Tunnel provided another bounty of tender starter plants for our community gardeners to share.  The goal of the project is to help offset some of the costs associated with starting a garden plot.

GROWing Better Gardens
GROW not only provides a space for people to garden, it's important to also teach our area residents different techniques to make their experience more enjoyable as well as increasing their potential yield. In 2018 GROW hosted 7 classes on topics such as Vermicomposting, Pest ID and Plant Disease, Growing Season Extension, Soil Health, and Canning. Total attendance for the GROWing Better Gardens Series was 60. This is a 40% increase as compared to 2017.


Perkins Park
The Warren Farmers Market at Perkins Park will continue its vision as an essential resource for the community by promoting and providing locally grown food and handmade products as well as maintaining an active role in civic engagement. The Warren Farmers Market provides a safe space to shop, provide low-income residents and senior citizens access to healthy food and to make a difference in the community by offering information of which developed knowledge of civic responsibilities and resources.
The Warren Farmers Market is held weekly from June 8th through October 5th at Warren's beautiful Perkins Park above the Warren Community Amphitheater. Join us in historic Warren, OH ("Historic Capital of the Western Reserve") for fresh, local and healthy food and other crafted artisan products.
Our weekly market takes place on Tuesdays from June until the first Tuesday of October from 3-6pm. FREE Parking is available behind the Kinsmen House. The WRTA offers free transportation.
Some of the items to discover at our market include vegetables, honey, baked goods, maple syrup, kettle corn, paintings, soap, masks, fruit, chicken, eggs, fine art.
Ohio Direction Card / SNAP
We accept credit and debit cards. We also accept the Ohio Direction Card/SNAP (food assistance benefits EBT card). Come by the Warren Farmers Market Info Tent to use your credit/debit/EBT cards and get market tokens! We also have the Double Your Dollars SNAP benefits incentive program. You can double your SNAP EBT dollars at our market. Ask us about the WIC Farmers Market Nutrition Program and Mercy Health's Fruit and Vegetable Prescription Program.

GROWing Healthy
GROW approaches health holistically with the GROWing Healthy workshops series, focusing on nutrition, mindfulness, and active lifestyles. In 2018 GROW hosted 7 classes on topics such as Vegetable Fermentation, Healthy Living 101, Immune Health and Managing Stress, Joint and Organ Health, Daily Health, and Journaling for Wellness. Classes were taught by Jessica Sowers of Body Bliss Connection LLC, Sophia Buggs of Lady Buggs Farm, and Ginny Taylor from Women of Wonder.
Cooking Demonstrations
It's important for people to see food prepared and taste those foods, particularly if it's something they aren't used to regularly preparing. The GROW program sponsors cooking demonstrations and provides samples of healthy food to try at the market and other community outreach events throughout the year.

 

Other Health and Wellness Programming
Every week, in partnership with Body Bliss Connection LLC, the Warren Farmers Market hosts a yoga class that is open to all skill levels. The class is a wonderful way to fight stress and provides a safe space for those that may have never tried yoga previously. Thanks to a gracious donation from Body Bliss Connection in 2018, the Warren Farmers Market now provides mats for those that may not have their own or would like to join the class on a whim while shopping at the market.
GOOD FOOD HERE
Through the GOOD FOOD HERE Program, small convenience stores in the city sold 60 pounds of produce in 2018. Currently there are two local stores participating in the program. SMART Food Stores is located in Southeast Warren and Litl' Macs is located in Northwest Warren. Both locations are interested in increasing the amount of fresh and local foods they supply in their stores for their customers. GROW seeks to continue working with small businesses that would like to expand their current fresh food offerings and the various payment options including SNAP and WIC.